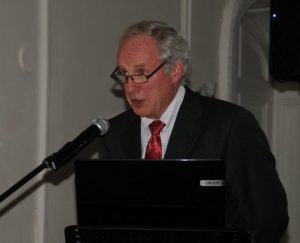 Jonathan is an experienced speaker and has given illustrated presentations at a wide variety of institutions including The National Army Museum, The National Archives, The Polish Club, The Royal Overseas League, The Royal United Services Institute (RUSI), The Royal Army Chaplains Department, The Museum of Army Flying and Exeter Cathedral. He is equally at home delivering talks to local associations and clubs and enjoys a busy schedule of presentations on board cruise ships.
His current list of illustrated talks include:
1. Capturing Conflict – the Camera at War, (1847 – 2014) – a history of war photography
2. Betrayal? Britain and the Polish Resistance during World War II.
3. Passion & Power: Three Mistresses in the Great War.
4. Aden Insurgency, 1962 – 1967: The End of Empire.
5. Agents and Confidants: the Women of the Special Operations Executive (SOE) in WWll.
6. Murmansk and the Allied Intervention in the Russian Civil War 1918-20.
7. The Prisoners of Devil's Island.
8. Churchill's Third World War: 'Operation Unthinkable'.
9. Gibraltar's Secret War: Buster Crabb and the Frogmen.
10. The Commando Raid on Glomfjord & Hitler's Secret Execution Order.
11. Ernest Hemingway and the Spanish Civil War.
12. Changing Faces: The Genesis of Plastic Surgery in the Great War.
13. 'Operation Condor'. The CIA & the Cold War in South America.
14. 'Tet Offensive': Turning point of the Vietnam War.
15. D-Day, Arnhem & The Rhine: A Glider Pilot's Story
16. Holocaust: What the Allies Knew.
17. The Treaty of Versailles 1919 – A Poisoned Chalice?